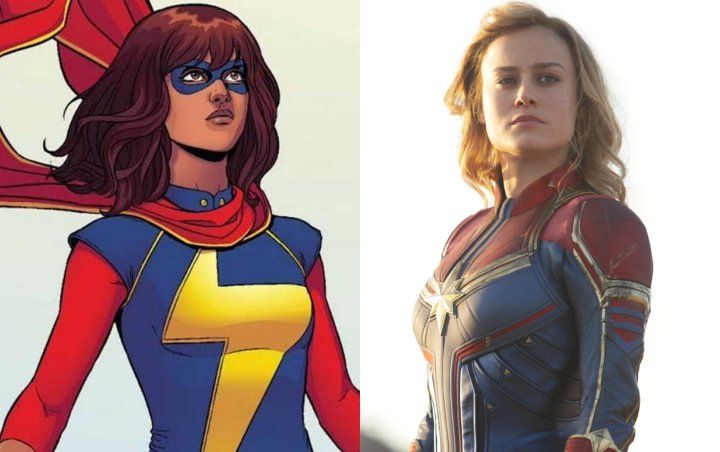 Disney announces 'Ms. Marvel' series that focuses on Kamala Khan at D23 Expo and Kevin Feige confirms that the Pakistani-American superhero will cross over in future Marvel films.
AceShowbiz –
The Marvel Cinematic Universe continues to embrace diversity by introducing the first Muslim superhero in its next projects. Disney announced at its D23 Expo on Friday, August 23 that "Ms. Marvel" series is currently in development for the upcoming Disney+ streaming service.
The live-action series will focus on Kamala Khan, a Pakistani-American girl from New Jersey who idolizes Captain Marvel and becomes a superhero in her own right. British writer and comedian Bisha K. Ali is hired to write and serve as showrunner.
While there's still no word on who will star as Khan, Marvel Studios boss Kevin Feige has managed to hype up the character's upcoming onscreen appearance by confirming that Mr. Marvel will cross over in future Marvel films. With her tie to Captain Marvel, there has been a speculation that she will appear alongside Brie Larson's titular character in "Captain Marvel 2".
Feige had previously teased Ms. Marvel's big-screen appearance, saying during the annual Produced By conference in June 2018, "We wanted to get Captain Marvel out there first so that there is something for a young Muslim girl to get inspired by."
Larson, meanwhile, said earlier this year that the inclusion of Khan in a "Captain Marvel" sequel would be "the goal." She shared, "I feel like she's the future. So when I've been asked about the future of the MCU, or the future of the Captain Marvel series, I want to be with her."
Besides the "Ms. Marvel" series, Disney announced two other original series at the expo. One of them is "Moon Knight" centering on a cloaked crime-fighter and detective who prefers the shadows. His alter ego is Marc Spector, a former U.S. Marine who inherits the powers of an Egyptian moon god.
The other upcoming live-action series is "She-Hulk" about Bruce Banner's cousin Jessica Walters, who received a dose of his gamma-generated powers following a blood transfusion from her cousin. She acquired a milder version of his Hulk condition, making her turn into a large, powerful green-hued version of herself while still largely retaining her personality.
The last two mentioned projects still have no writers attached. The newly-announced series will join previously announced Marvel-produced Disney+ series that includes "The Falcon and the Winter Soldier", "WandaVision", "Loki", "What If…?" and "Hawkeye".